YouTube is a great platform for sharing videos, but before you can share your videos with the world, you need to edit them first.
Editing your videos doesn't have to be complicated or time-consuming. You can edit your videos with a few simple steps and make them look great.
First, decide what you want to include in your video. You don't need to include everything that happened, just the highlights. Choose the best footage and delete the rest.
Next, add a title and description to your video. This will help people find your video when searching for something specific.
Finally, add some music to your video. You can find free video music on websites like YouTube Audio Library. Just make sure you choose a song that isn't copyrighted.
Now your video is ready to be shared with the world!
What Video Editing Software Is Best For YouTube Videos?

There are a few things to consider when choosing video editing software for your YouTube videos. The first is the price. There are free programs like iMovie and Windows Movie Maker, but they may not have all the features you need. If you're willing to spend a little money, many affordable options like Adobe Premiere Elements and Sony Vegas Movie Studio exist.
The second thing to consider is the learning curve. Some software is very easy to use, and you can be up and running quickly, while others may be more complex and take some time to learn. Again, it comes down to what you need and how much time you will spend learning the software.
Finally, consider the type of videos you'll be editing. Almost any software will do the trick if you're doing basic cutting and splicing. But you'll need something more powerful if you want to do more complex edits, like adding special effects or working with multiple video tracks.
So,
What's the Best Video Editing Software for YouTube Videos?
It depends on your needs and budget. Something like iMovie or Windows Movie Maker will be fine if you start. Adobe Premiere Elements or Sony Vegas Movie Studio may be a better choice for more advanced users. And for those looking to do complex edits, there are professional-grade programs like Adobe Premiere Pro and Avid Media Composer.
No matter what level you're at, there's a video editing program out there that's right for you. So get started and start creating those great YouTube videos!
How To Edit Videos For YouTube – Tip and Tricks
When it comes to editing videos for YouTube, there are a few things you'll want to keep in mind to ensure your videos are engaging and enjoyable for your viewers.
First, take a look at the overall structure of your video.
Is It Easy to Follow Along? Are the Transitions Between Scenes Smooth?
If not, you may consider rearranging some of the footage or adding additional transitional elements.
Next, focus on the audio.
Is the Sound Quality Clear? Are There Any Background Noises That Could Be Distracting?
If so, consider using a noise-canceling filter or re-recording the audio in a quieter environment.
Finally, take a look at the v
Visuals. Are the Colors Balanced? Is the Footage Sharp and in Focus?
If not, you may want to adjust the color settings or use a higher-quality camera for future videos.
By following these tips, you can ensure that your videos are polished and professional-looking, which will help you attract and retain viewers.
How Do I Add Captions To My YouTube Videos?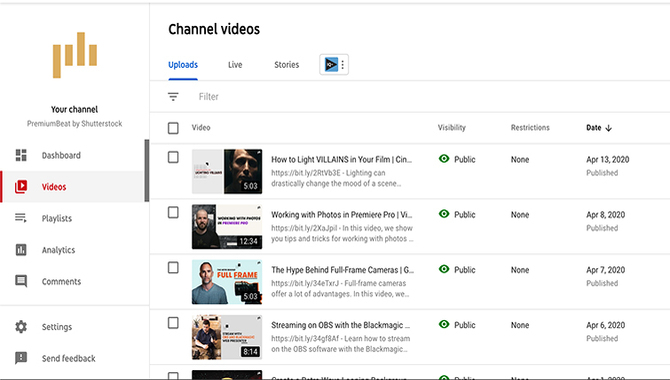 Adding captions to your YouTube videos is a great way to make your content more accessible to a wider audience. Here's a step-by-step guide on how to add captions to your YouTube videos:
 Go to the YouTube video you want to add captions and click on the More button.
 Select Edit from the drop-down menu.
 Click on the Caption tab.
 Click on the Add new captions or transcript button.
 Select the language you want to use for your captions.
 Type or paste your caption text into the text box.
 When you're finished, click on the Publish button.
That's all there is to it! Following these simple steps, you can add captions to your YouTube videos and make them more accessible to a wider audience.
How Do I Improve The Quality Of My YouTube Videos?
If you're looking to improve the quality of your YouTube videos, there are a few things you can do. First, make sure you have good lighting. This will make a big difference in the quality of your video. Second, use a tripod to keep your camera steady. This will help avoid any blurriness in your video.
Third, use a good microphone to ensure that your audio is clear. Fourth, edit your video to get rid of any unwanted footage. And fifth, export your video in a high-quality format. By following these tips, you can significantly improve the quality of your YouTube videos.
Conclusion
It would be best if you did a few things to edit videos for YouTube. First, you need to download video editing software. Next, you need to open the video editing software and load the video you want to edit. After that, you need to edit the video according to your needs. Finally, you must export and upload the edited video to YouTube.
If you're still unclear about how to edit videos for YouTube, feel free to leave a comment below.