A pie is a delicious baked dish that consists of a pastry crust and a filling, which can be sweet or savory. The filling can include fruits, meats, vegetables, or custards. The crust is made from flour, fat, and water.
Pies are versatile and can be enjoyed as desserts, main dishes, or appetizers. A tart is a delicious baked pastry dish that comes in various shapes, like round or rectangular, and is filled with either sweet or savory ingredients.
With its buttery crust, tarts can be filled with fruits, custards, chocolates, vegetables, or meats. They are versatile and can be enjoyed as desserts, appetizers, or main dishes. Here we will take you on a mouthwatering journey through the world of pies and tarts.
From classic apple pie to tangy lemon meringue pie, we have curated a list of 10 delicious Freshly Baked Pies and Tarts that will satisfy your sweet tooth. Get ready to embark on a culinary adventure filled with flaky crusts, luscious fillings, and irresistible flavors. It's time to treat yourself to a slice of heaven!
10 Delicious Freshly Baked Pies And Tarts That Will Satisfy Your Sweet Tooth
Delight in a variety of flavors with Baked Pies and Tarts. From the classic Apple Pie to the tangy Key Lime Pie, these treats are sure to satisfy any craving. Indulge in the burst of flavors from Blueberry Pie or the rich nuttiness of Pecan Pie.
With each bite, you'll savor the combination of crispy crust and luscious filling. Enhance your dessert experience by adding a dollop of whipped cream, a scoop of vanilla ice cream, or a sprinkle of cinnamon.
Take a trip to the tropics with a Key Lime Pie, or enjoy the zesty freshness of a Lemon Meringue Pie. No matter your preference, Baked Pies and Tarts offer a delectable treat for any occasion. here are 10 delicious Freshly Baked Pies and Tarts that will satisfy your sweet tooth.
1. Apple Pie
Delicious and timeless, apple pie tantalizes taste buds with a perfect harmony of tangy apples and warm spices. There is nothing quite like a warm slice of apple pie to satisfy your sweet tooth. Made with fresh apples, a flaky crust, and just the right amount of cinnamon and sugar, apple pie is a classic dessert that never disappoints.
Whether enjoyed on its own or topped with a scoop of vanilla ice cream, this timeless treat is sure to bring comfort and joy to any occasion. So go ahead, indulge in a slice of freshly baked apple pie and let its delicious flavors transport you to pie paradise.
2. Cherry Pie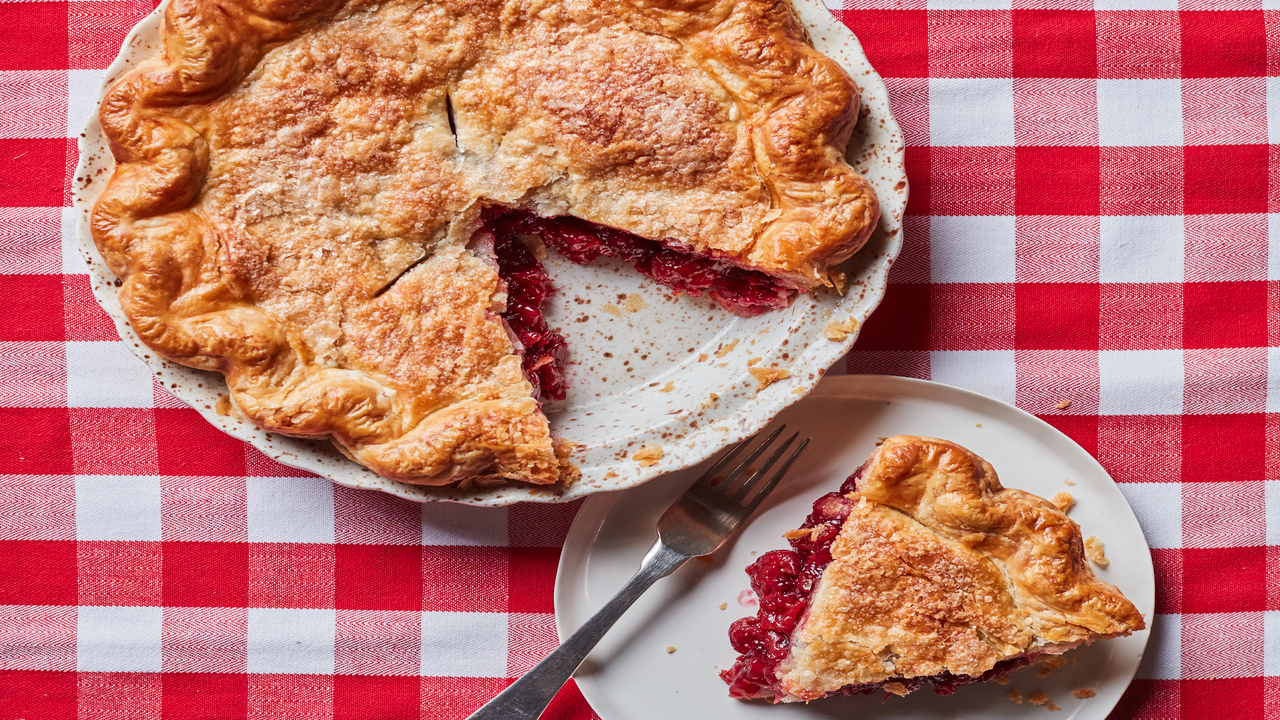 A beloved and timeless dessert, cherry pie is a delicious treat that satisfies any sweet tooth. Bursting with flavor, this classic dessert combines the natural sweetness of cherries with a hint of tartness. Whether you make your crust from scratch or use a pre-made one, the flaky pastry complements the luscious cherry filling perfectly.
Get creative with variations such as lattice-top crusts or adding blueberries or raspberries for an extra burst of flavor. Enjoy warm with a scoop of vanilla ice cream or cold on a hot summer day. Indulge in this classic dessert that is sure to delight.
3. Key Lime Pie
With its creamy filling and tangy flavor, Key Lime Pie is a must-try dessert. Made from the juice of fresh key limes, this classic pie is finished with either whipped cream or meringue for added sweetness and texture.
Whether you choose a homemade graham cracker crust or opt for a store-bought option, the combination of tart lime and buttery crust is pure perfection. Indulge in the refreshing taste of Key Lime Pie on a hot summer day, and let the flavors of vanilla, cinnamon, and lemon meringue dance on your taste buds.
4. Lemon Meringue Pie
A classic dessert, Lemon Meringue Pie combines a tangy lemon filling and a fluffy meringue topping. The fresh lemon juice, zest, sugar, eggs, and cornstarch create a refreshing flavor.
The whipped egg whites and sugar result in a light and airy meringue topping. Enjoy this pie chilled or at room temperature, and add a whipped cream dollop for an extra sweetness touch. Lemon Meringue Pie is a delicious treat that will satisfy your cravings.
5. Mixed Berry Pie
Indulge your sweet tooth with a slice of our delicious mixed berry pie. Made with fresh berries, this pie is bursting with flavour and sweetness. Combining juicy strawberries, tart raspberries, and plump blueberries creates the perfect balance of sweet and tangy.
Each bite is filled with the natural sweetness of the berries, complemented by a flaky, buttery crust. Whether enjoyed on its own or topped with a scoop of vanilla ice cream, our mixed berry pie will satisfy your cravings for something sweet. Treat yourself to this delectable dessert today.
6. Baked Almond Mixed Berry Tart
Delight in the delectable Baked Almond Mixed Berry Tart, where the buttery crust harmonizes with the creamy almond filling and an abundance of tangy mixed berries. Experience the golden-brown perfection of this delectable tart that pleases both your taste buds and your senses.
Whether you're entertaining guests or savoring a moment of self-indulgence, this treat is guaranteed to satisfy. Accompany it with a scoop of velvety vanilla ice cream for an added touch of luxury.
7. Baked Almond Pear Tart
Delightfully Flaky Baked Almond Pear Tart. Indulge in this sweet treat featuring buttery pastry and juicy pears, garnished with sprinkled almonds. If you're looking for a delicious treat to satisfy your sweet tooth, look no further than the baked almond pear tart.
This delectable dessert combines the delicate flavor of pears with the nutty crunch of almonds, all nestled in a buttery, flaky crust. The combination of sweet and savory flavors is simply irresistible.
Whether enjoyed on its own or paired with a scoop of vanilla ice cream, this baked almond pear tart is sure to delight your taste buds and leave you craving more. Treat yourself to this indulgent dessert and experience pure bliss with every bite.
8. Daisy Flan
Indulge in the exquisite Daisy Flan, a delightful dessert that combines a flaky pastry crust and a creamy custard filling. This classic treat will captivate your taste buds with its perfectly balanced textures and irresistible taste.
Whether served warm or chilled, Daisy Flan is a versatile option for any occasion. It pairs beautifully with fresh fruit toppings like juicy strawberries or vibrant blueberries, adding a burst of flavor and visual appeal. Experience the decadence of this heavenly dessert and savor every delightful bite.
9. Fresh Strawberry Fruit Tart
Indulge in the delectable Fresh Strawberry Fruit Tart, a perfect combination of buttery crust, creamy filling, and fresh strawberries. This sumptuous dessert is ideal for summer with its peak-flavoured strawberries and rich, flaky texture.
Enjoy it as is, or enhance the experience with a dollop of whipped cream or a velvety vanilla ice cream scoop. Savour the burst of sweetness and freshness that each bite delivers. Perfect for any occasion, this vibrant treat will impress your guests and leave them craving for more.
10. Mixed Fresh Fruit Tart
Delightful and Refreshing Mixed Fresh Fruit Tart: Perfect Summer Treat. Indulge your sweet tooth with a mixed fresh fruit tart to satisfy your dessert cravings. Made with a buttery, flaky crust and topped with a medley of vibrant, juicy fruits, this tart is as delicious as it is beautiful.
The combination of flavours and textures, from the sweet and tangy fruits to the crisp crust, creates a delightful treat that will leave you wanting more. Whether enjoyed on its own or paired with a scoop of vanilla ice cream, this mixed fresh fruit tart is the perfect way to indulge in something sweet and refreshing. Treat yourself to this delectable dessert and experience fruity goodness in every bite.
How To Store And Reheat Leftover Pies And Tarts
Properly storing and reheating leftover pies and tarts is essential to maintain their freshness and deliciousness. To store leftovers, let the pie or tart cool completely before covering it tightly with plastic wrap or aluminium foil. This will help prevent the filling from drying out and the pastry soggy. Store the leftovers in the refrigerator for up to three days.
Regarding reheating, there are a few options depending on your preference. Preheat your oven to 350°F (175°C) and place the pie or tart on a baking sheet for a warm, fresh-out-of-the-oven taste.
Heat for about 10-15 minutes or until warmed through. If you're short on time or prefer a softer texture, you can reheat individual slices in the microwave for 20-30 seconds on medium power. Remember always to use caution when reheating, as some fillings may become very hot. And of course, don't forget to enjoy every last bite of your delicious homemade pie or tart.
Conclusion
Pies and tarts are the perfect indulgence for any dessert lover. Indulging in freshly baked pies and tarts is a delightful experience that can bring comfort and joy to any occasion. The aroma of a warm pie or tart straight from the oven makes your mouth water.
Whether you prefer classic flavours like apple or cherry, or more unique combinations like peach and lavender, there is a pie or tart to satisfy every craving. So why wait? Treat yourself to the sweet and savoury goodness of baked pies and tarts today. With each bite, you'll savour the love and care that goes into creating these delectable treats.
Frequently Asked Questions
1.Why Not Make Your Pies And Tarts From Scratch And Experience A Homecooked Taste?
Ans: Experience the delicious taste of homemade pies and tarts by making them from scratch. Control the ingredients and customize flavours, showcasing your culinary skills. Enjoy the fresh, authentic taste that can't be replicated with store-bought options. Get creative with unique fillings and crusts for a truly satisfying experience.
2.Do You Need Several Pies For A Large Celebration Or Gathering?
Ans: The number of pies required for a large celebration or gathering depends on the number of guests and their appetites. It's advisable to have a variety of pie flavours to accommodate different preferences. Consider other desserts and portion sizes, and it's better to have extra pies for leftovers.
3.How Long Does Pie Last In The Fridge?
Ans: Freshly baked pies can usually be stored in the fridge for 3-4 days. Keeping them in an airtight container or tightly wrapped in plastic is crucial. Fruit pies may not last as long as custard or cream pies. Before eating leftover pie, check for any signs of spoilage like mould or unusual odour.
4.What Could Make This Chocolate Pie Even Sweeter?
Ans: To make this chocolate pie even sweeter, add a dollop of whipped cream, drizzle warm chocolate sauce over it, sprinkle powdered sugar or cocoa powder for extra sweetness, or serve it with a scoop of vanilla ice cream on the side. These additions will enhance the flavour and indulgence of the pie.
5.What Is The Best Bakery To Order From For Baked Pies And Tarts?
Ans: Determining the "best" bakery for baked pies and tarts is subjective and depends on personal taste and location. Some popular options include [Bakery Name 1], [Bakery Name 2], and [Bakery Name 3]. Check online reviews and ask for recommendations for a bakery that suits your preferences for high-quality pies and tarts.